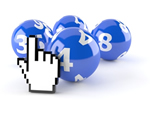 If you are new to bingo - bingobase is the best place to start learning.
We are not a site that wants to grab your cash and dash and we are not going to throw you in to the deep end. We want to act as your online bingo showroom, but without the dodgy salesman!
In our online bingo showroom we only have polished state of the art bingo sites such as Cheeky Bingo, Wink Bingo and Foxy Bingo that are eager to entertain, introduce friends and offer cash prizes - each one of them has something different to offer, and to be honest some of them are also very similar.
Some sites offer 75 ball bingo versus 90 ball bingo, some have download software, some have lots of small cash prizes, others have fewer but larger cash prizes, some have free give-aways and other have great chat - rooms.
These are the factors that you need to be aware of when deciding which sites suit you, and the common things to do is to be registered at several online bingo sites - and this is our recommendation. You should sign up and play at several, some you may not like, and others you will play to suit your mood - depending on whether you are keen to chat with familiar names, or make new friends, play for a big jackpot or something completely different. Our showroom has something for everyone in every mood.
The bingo sites in our showroom are all reputable and thus we actively encourage you to try them all out! Our tools will help you find what you are after, either via the Quick Compare table, the Latest Free Bingo offers available, or the detailed Bingo Reviews we have of every site.
Once you click through to the bingo site you have chosen to experiment with, the procedure is fairly standard, they ask your name and address, a screen name and lastly the method by which you wish to deposit funds - we urge you to go easy to start with and then splash out once you know what you are after!
Happy bingobasing and if you have any questions or feedback do not hesitate to get in touch with us at [email protected]
New To Bingo Online
Bingo is a game that is elegant in its simplicity -- and it's even easier online. The objective of any style of bingo is to complete the game pattern on your bingo card before any other player. If you do, you have a bingo and win the prize. Easy!
When playing online, your bingo cards are randomly selected for you. Most online games give you 3 or 4 cards and if you're lucky you can play free bingo at many bingo sites. Other games let you take more.
Every online bingo game has a caller or a display board for the bingo numbers. The game pattern is also displayed.
It's important to pay attention to the pattern. You only need the numbers that form the pattern to win the game. Some patterns are much easier than others to complete. The most basic patterns are straight lines in a horizontal, vertical or diagonal direction. Another simple and popular game is the blackout or coverall where you have to cover the whole card.
The numbers are announced quickly, usually 10 seconds apart, so you must pay careful attention to the numbers that are called and mark them quickly and accurately on your cards. Some games automatically mark the numbers on your card for you, but that takes much of the fun out of the game.
Play continues until one or more players claim bingo, at which time, the game stops immediately and the numbers are verified. If there's a winner announced, the prize is awarded. If there is more than one winner, they split the prize.
Next, the players get new cards and a new pattern is displayed. With that, a new bingo game begins!
History Of Bingo
Bingo became popular in Australia early in the 20th Century. It was known as HOUSIE. HOUSIE and was held in large marquees before they moved into halls.
It was played on cards and you placed your token on your card when the numbers were called. The winner would call HOUSE. Faster, slicker games are played today.